METHODOLOGICAL PRINCIPLES FOR EVALUATING THE ECONOMIC EFFICIENCY OF DISPOSAL OF RARE METALS FROM TECHNOLOGICAL WASTE OS SPECIAL STEEL
Keywords:
utilization, man-made waste, economic efficiency, consumption coefficients, degree of end-to-end utilization.
Abstract
The article proposes one of the directions for evaluating economic efficiency, taking into account non-traditional criteria that have developed during the utilization of rare metals in the metallurgy of special steels. The importance of the rational use of raw and energy resources, the use of man-made waste, secondary raw materials and the disposal of valuable components from their processing is shown. To increase the degree of utilization, additives of alloyed cyclone dust, which settles during the dispersion of liquid metal, were used. Optimum parameters of metallization of scale in capsules in heating furnaces together with heat-treated metal allow increase the degree of use of heating furnaces. The obtained spongy material in the capsule is used as an alloyed charge in the production of powder high-speed steels without any significant changes to the current technology, which made it possible to significantly reduce the costs of expensive rare elements and ferroalloys based on them. The factors that have been developed and have a decisive influence on the economic efficiency of the disposal of refractory elements at relatively low temperatures (no more than 1200 °С) by the proposed method have been identified. Determined factors affecting the efficiency of extraction of rare metals: the concentration of refractory elements in the used waste, consumption coefficients, the degree of their end-to-end utilization, reduction of the carbon content of the entire complex of refractory and active metals when conducting the process in systems with excess recovery potential and other factors. The economic expediency of recycling rare metals from the slag of high-speed steels is confirmed by calculations made on the basis of statistical processing of accounting data of active industrial steel production.
References
1. Григорьев С.М., Пивень А.Н. Эффективность утилизации никеля и молибдена из отходов прецизионных сплавов на никелевой основе. Цветные металлы. Москва : Издательский дом «Руда и металлы», 1994. № 1. С. 10–12.
2. Керкхофф Х.Ю. Взрыв цен на сырьё – угроза экономическому подъёму. Чёрные металлы. Москва : Издательский дом «Руда и металлы», 2010. № 10. С. 61–66.
3. Грищенко С.Г. Мировой финансово-экономический кризис в металлургии. Сталь. Москва : Интермет Инжиниринг, 2009. № 2. С. 68–71.
4. Грищенко С.Г. Рынок металлопродукции Украины в странах СНГ: проблемы и задачи. Сталь. Москва : Интермет Инжиниринг, 2008. № 9. С. 88–90.
5. Григорьев С.М., Геллер А.В. Утилизация техногенных отходов при получении порошков хромоникелевых сталей. Сталь. Москва : Интермет Инжиниринг 1999. № 8. С. 72–74.
6. Григорьев С.М., Петрищева И.В. Экономическая целесообразность альтернативных источников ресурсо-энергосбережения в металлургической промышленности. Вісник Запорізького національного університету. Серія: Економічні науки. Запоріжжя : ЗНУ, 2012. № 2. С. 15–20.
7. Крогерус X., Ойкаринсн П. Технология производства феррохрома фирмы Outokumpu: экономическая эффективность и высокая производительность. Черные металлы. Москва : Издательский дом «Руда и металлы», 2003. № 12. С. 23–31.
8. Лейтман М.С. Тугоплавкие металлы: состояние рынка и перспективы применения в России. Сталь. Москва : Интермет Инжиниринг, 2008. № 3. С. 47–50. 9. Волынкина Е.П., Протопопов Е.В. Отходы металлургического предприятия: от анализа потерь к управлению. Известия вузов. Чёрная металлургия. Москва : МИСИС, 2005. № 6. С. 72–76.
10. Хансман Т., Фонтана П., Чиапперо А. Технология оптимального рынка отходов черной металлургии. Черные металлы. Москва : Интермет Инжиниринг, 2008. № 10. С. 32–37.
11. Черепков К.А. Переработка и утилизация отходов – один из путей рационального использования природных ресурсов. Известия вузов. Черная металлургия. Москва : МИСИС, 2004. № 12. С. 73–77.
12. Грищенко С.Г. Мировой финансово-экономический кризис в металлургии. Сталь. Москва : Интермет Инжиниринг, 2009. № 2. С. 68–71.
13. Григор'єв С.М., Зубрицька Я.О. Стратегічні й практичні напрями ресурсо- та енергозбереження в металургії важкотопких легувальних матеріалів і спеціальних сталей. Держава та регіони. Запоріжжя : КПУ. 2009, № 6. С. 70–76.
14. Григор'єв С.М., Зубрицька Я.О. Ресурсо- та енергозбереження в регіональній економічній політиці на прикладі утилізації легувальних елементів з техногенних вщходів виробництва прицензійних сплавів. Держава та регіони. Запоріжжя : КПУ, 2009. № 5. С. 61–65.
15. Григорьев С.М. Технико-экономические показатели развития металлургии губчатых и порошковых лигатур на примере металлизованного молибденового концентрата. Чёрные металлы. Москва : Издательский дом «Руда и металлы», 2005. № 3. С. 26–29.
16. Григор'єв С.М. Удосконалення регіонального планування в металургії тугоплавких легувальних матеріалів на прикладі впровадження у виробництво хромовмісних брикетів. Держава та регіони. Запоріжжя : КПУ, 2009. № 7. С. 72–76.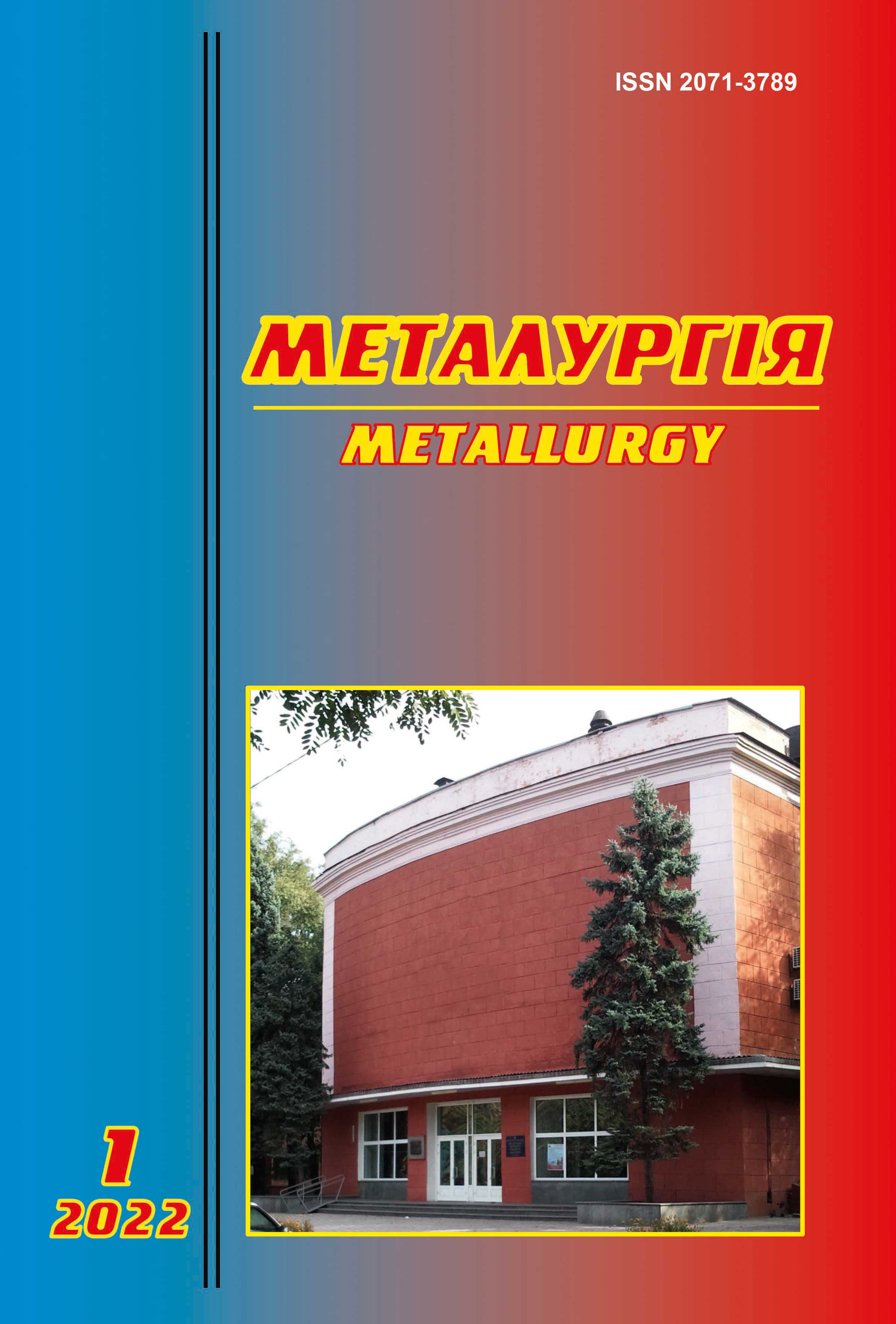 How to Cite
Hrigoriev, D., Skachkov, V., & Karpenko, A. (2023). METHODOLOGICAL PRINCIPLES FOR EVALUATING THE ECONOMIC EFFICIENCY OF DISPOSAL OF RARE METALS FROM TECHNOLOGICAL WASTE OS SPECIAL STEEL. Scientific Journal "Metallurgy", (1), 87-92. https://doi.org/10.26661/2071-3789-2022-1-011